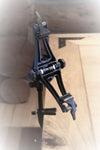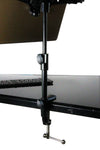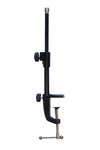 Multi-tasking to become more productive is important for most desk-bound workers. Incorporating an extra screen is helpful and can bring greater efficiency to your workday.
Adding a second monitor to your computer is great, but there are many tasks more easily handled with a tablet or phone, such as conference calls, webinars, onboarding, or keeping an eye on the kids.
These handheld devices often get in the way on an already cluttered desk, become difficult to view and create discomfort. Keeping your tablet or phone up off the desk, perfectly displayed within reach, is ideal for everyone!
Tablet Holder for Online Learning and Work From Home
Optimize your workspace for easier and more efficient school and work activities.
Best Tablet Holder for VoIP, Webinars, FaceTime, Skype, Zoom, Facebook, and Instagram LIVE
Create your perfect hands-free display, view your tablet or smartphone how and where you want, enhance your project without cluttering the workspace, and have your setup wherever you are!
Best Tablet Mount for Kitchen, DIY projects, and Vehicle Repairs
Mount your tablet or phone to the side of most desktops and nearly any flat surface to create a clear workspace and maintain an ideal view!
Includes:
MANOS Universal Tablet Holder
Featuring a rugged heavy-duty design, the AirTurn MANOS universal tablet mount holds smartphones and tablets from 5" to 13.3" with or without a protective casing. It displays your device without obstruction, easily rotates between portrait and landscape, fits a standard 5/8-27 mic thread, and lays flat to fit in your gig bag or backpack!
Universal: Compatible with all phones and tablets up to 13.3", and most protective cases, including iPad Pro and Otterbox. Accepts the widest range of devices on the market. (Narrowest tablet dimension can be up to 8.75"/22.2cm)
Classy: Provides an unobstructed view of your device's screen, as well as an uncluttered view from behind.
Versatile: Delivers smooth 360° rotation, locking positions in portrait and landscape, and vertical tilt for all reading positions.
Innovative: Includes specialized rubber fingers for maximum grip on the widest range of surface materials and textures.
Portable: Lays flat and fits in a gig bag or backpack.
Convenient: Attaches to any standard 5/8-27 threaded microphone stand.
Durable: Crafted from virtually indestructible ABS blended plastic and stainless-steel parts.
Performance: Designed and built in the USA with premium materials that will outlast your device.
Warranty: Best-in-class 2-year warranty with product registration.
Weight: 9.3 oz (.26 kg), Dimensions: 13x5x3 in (330x127x76mm)
Desktop Clamp for Mic & Tablet Holders
Featuring a telescoping extension and adjustable clamp, the AirTurn Desktop Clamp offers maximum versatility for a diverse range of mounting surfaces. Attach to desktops, counters, workbenches, and more!
Secure: Rubber pad provides firm grip while protecting desk surface.
Convenient: Clamp opens to 2.25" (5.7 cm) to fit most mounting surfaces.
Adjustable: Pole extends from 5.75" to 10.25" (14.6 cm to 26 cm).
Durable: All steel construction.
Versatile: A removable 5/8-27 mic thread allows the Desktop Clamp to fit any 1/4" camera mount.
Warranty: Best-in-class 2-year warranty with product registration.
Weight: 12 oz (.34 kg), Dimensions: 9.5x3.25x1.25 in (241x83x32mm) collapsed