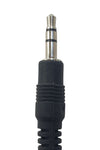 The AirTurn Bite Switch Remote Controller is for users that need a remote solution that does not require hands or feet. It works best for music and assistive tech applications. It may also be used as press switch for counter and camera apps.
Musicians
If you need both hands and feet to play your instrument, you can use the AirTurn Bite Switch to turn your pages, activate a metronome, start/stop backing tracks, or send MIDI commands to mention a few. Works with the AirTurn DIGIT 200 to connect wirelessly to your Mac, Windows, iOS or Android devices.
Assistive Technology Users
Send any keyboard command or macro with a gentle bite. There are hundreds of uses for switching in the assisted technology world. If the device you wish to operate accepts a momentary switch with a 3.5mm (1/8") plug, the Bite Switch has you covered.
Gamers
Using the Xbox Adaptive Controller and other adapters, you can plug into many switch controls such as the Xbox, PC. PS4, or Nintendo Switch and up your game.
Technical
The Bite Switch is comprised of a durable, sealed, flat switch assembly, measuring .75 inches long (1.9 cm) by .5 inch wide (1.3 cm), with a 36 inch (91 cm) cable, and a 3.5mm (1/8") plug. During use, the switch is placed in the mouth and the front teeth clamp down with gentle pressure to actuate it. A food-grade, silicone covering from FDA approved materials protects the switch. A soft click indicates the switch has been pressed and again when it is released.
The actual depression of the switch mechanism is only about 1/16"(1.6mm), so very little jaw movement is needed. As a result, head motion is minimal. It should be held and actuated only with the front teeth, not with the sharp canine teeth, and only hard enough to collapse the snap button underneath the cover.
FOR SANITARY REASONS, THE AIRTURN BITE SWITCH IS A NON-RETURNABLE ITEM. IF YOU EXPERIENCE ANY DEFECTS, PLEASE CONTACT AIRTURN FOR ASSISTANCE.
Includes:
Bite Switch
The AirTurn Bite Switch is constructed from an FDA-compliant silicone, and the switch pressure has been optimized for soft activation, while still offering tactile feedback. It is low-profile, flexible, and designed for long-term use.
It works with the AirTurn DIGIT for wireless control of iOS, MAC, Android, or Windows devices. It also easily integrates with the Microsoft Xbox Adaptive Controller for use with many platforms, as well as other devices that receive 3.5mm (1/8") momentary switch input, offering a plug-and-play switch solution that can be customized for your unique case or application.
Send any keyboard command or macro with a gentle bite!
Weight: .5 oz (15g), Dimensions: .75x.5 in (19x13mm)
DIGIT 500
The AirTurn DIGIT 500 features two 3.5mm (1/8") ports that accept nearly any momentary switch. Adapters are included for 6.3mm (1/4") switch inputs. It has an external keypad for easy custom programming, and may also be used as a handheld remote.
Endless Apps: Hundreds of compatible apps for turning pages, teleprompting, reading music, scrolling lyrics and tabs, triggering backing tracks and effects, sending MIDI commands, cueing audio and lighting, capturing photo and video, plus so much more!
App Control: Seven built-in modes store switch commands that work with hundreds of apps including those supported with AirDirect.
Customize: Create commands for almost any app that responds to keystrokes, macros, mouse clicks, or MIDI with the free AirTurn Manager. Adjust features such as Auto-Repeat, Idle Time, Low Power or Fast Response Mode, and Debounce. Select switch types such as Momentary, Latching, Pulse, or Command.
Updates: AirTurn Manager supports Over-the-Air updates to firmware for the latest features.
Versatile: May be used with up to 4 external momentary switches.
Max Range: At 200+ feet, AirTurn leads the industry's operating range.
Max Battery Life: Rechargeable battery provides 200+ hours of play time with a single charge, displays status indicators, and automatically turns off when the host device is turned off.
Status Indicators:

Bluetooth status LED. Low battery status LED.

Pairing Options: Choose open pairing for instant connections when switching between devices. Choose closed pairing to store a single connection and prevent unintended connection to other devices.
Multiple Devices: Connect up to eight AirTurn devices to use at the same time for more switch options.
Flexible Use: Use with your favorite momentary switch or as a handheld remote.
Compatibility: Works with phones, tablets, and computers that have Bluetooth 4 or higher, and accepts nearly any momentary switch.
Warranty: Best-in-class 2-year warranty with product registration (includes battery).
Product Weight: 2 oz (.056kg)
Product Dimensions: 2.25x 2.75x.625 in (57x70 x16mm)
AirTurn Bite Switch Remote Controller