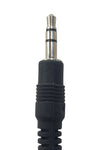 The AirTurn Bite Switch is constructed from an FDA-compliant silicone, and the switch pressure has been optimized for soft activation, while still offering tactile feedback. It is low-profile, flexible, and designed for long-term use.
It works with the AirTurn DIGIT for wireless control of iOS, MAC, Android, or Windows devices. It also easily integrates with the Microsoft Xbox Adaptive Controller for use with many platforms, as well as other devices that receive 3.5mm (1/8") momentary switch input, offering a plug-and-play switch solution that can be customized for your unique case or application.
Send any keyboard command or macro with a gentle bite!
Musicians
If you need both hands and feet to play your instrument, you can use the AirTurn Bite Switch to turn your pages, activate a metronome, start/stop backing tracks, or send MIDI commands to mention a few. Works with the AirTurn DIGIT 200 to connect wirelessly to your Mac, Windows, iOS or Android devices.
Assistive Technology Users
Send any keyboard command or macro with a gentle bite. There are hundreds of uses for switching in the assisted technology world. If the device you wish to operate accepts a momentary switch with a 3.5mm (1/8") plug, the Bite Switch has you covered.
Gamers
Using the Xbox Adaptive Controller and other adapters, you can plug into many switch controls such as the Xbox, PC. PS4, or Nintendo Switch and up your game.
Technical
The Bite Switch is comprised of a durable, sealed, flat switch assembly, measuring .75 inches long (1.9 cm) by .5 inch wide (1.3 cm), with a 36 inch (91 cm) cable, and a 3.5mm (1/8") plug. During use, the switch is placed in the mouth and the front teeth clamp down with gentle pressure to actuate it. A food-grade, silicone covering from FDA approved materials protects the switch. A soft click indicates the switch has been pressed and again when it is released.
The actual depression of the switch mechanism is only about 1/16"(1.6mm), so very little jaw movement is needed. As a result, head motion is minimal. It should be held and actuated only with the front teeth, not with the sharp canine teeth, and only hard enough to collapse the snap button underneath the cover.
FOR SANITARY REASONS, THE AIRTURN BITE SWITCH IS A NON-RETURNABLE ITEM. IF YOU EXPERIENCE ANY DEFECTS, PLEASE CONTACT AIRTURN FOR ASSISTANCE.