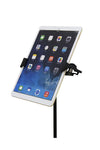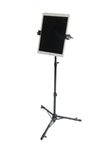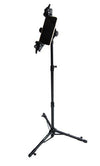 Technology makes life easier, but it takes the right tools to be useful. Having an extra pair of hands to hold your tablet or phone while you work, learn, watch, or play is a dream come true for everyone!
Tablet Stand for Online Learning and Engagement
View your tablet or smartphone how and where you want, enhance your project without cluttering the workspace, and have your setup wherever you are! Perfect for webinars, video conferencing, virtual family dinners, and more!
Best Tablet Holder and Stand for Music
Mount your tablet or phone for easy viewing of your digital sheet music. The AirTurn MANOS is completely adjustable and lays flat for easy storage and portability. It is an excellent enhancement to music practice and performance at home and on-the-go!
Most Portable Tablet and Accessories Stand
Save space, keep your accessories conveniently within reach, and enjoy easy setup and storage. Fits in a gig bag or backpack!
Extendibility
STAND EXTENSION: The AirTurn BOOM offers greater accessibility when reading or watching at a distance or from a bed or recliner.
MIC MOUNTING: The classic AirTurn Side Mount Clamp allows the display of lyrics/slides conveniently in view without compromising the traditional placement of a microphone.
ACCESSORIES: The AirTurn SMC, SMC-EX, and SMC-EX2 offer endless expansion possibilities. The AirTurn goSTAND also accommodates tray tables and drink holders. Mount all your gear and essential performance accessories right where you need them!
*NOTE: Boom extension and accessory clamps sold separately.
Includes:
MANOS Universal Tablet Holder
Featuring a rugged heavy-duty design, the AirTurn MANOS universal tablet mount holds smartphones and tablets from 5" to 13.3" with or without a protective casing. It displays your device without obstruction, easily rotates between portrait and landscape, fits a standard 5/8-27 mic thread, and lays flat to fit in your gig bag or backpack!
Universal: Compatible with all phones and tablets up to 13.3", and most protective cases, including iPad Pro and Otterbox. Accepts the widest range of devices on the market. (Narrowest tablet dimension can be up to 8.75"/22.2cm)
Classy:Provides an unobstructed view of your device's screen, as well as an uncluttered view from behind.
Versatile: Delivers smooth 360° rotation, locking positions in portrait and landscape, and vertical tilt for all reading positions.
Innovative: Includes specialized rubber fingers for maximum grip on the widest range of surface materials and textures.
Portable: Lays flat and fits in a gig bag or backpack.
Convenient: Attaches to any standard 5/8-27 threaded microphone stand.
Durable: Crafted from virtually indestructible ABS blended plastic and stainless-steel parts.
Performance: Designed and built in the USA with premium materials that will outlast your device.
Warranty: Best-in-class 2-year warranty with product registration.
Weight: 9.3 oz (.26 kg), Dimensions: 13x5x3 in (330x127x76mm)
goSTAND Portable Mic and Tablet Stand
Using a telescoping steel tube design, the AirTurn goSTAND portable mic and tablet stand extends up to 58" and collapses down to only 18". Works well when standing or seated, can be set for uneven surfaces, has a standard 5/8-27 thread, and folds up to fit in a standard backpack!
Reach: Less than 18" (453mm) when collapsed, and up to 57" (1448mm) when fully extended.
Portable: Weighs less than 2.6 lbs (1.25kg), and fits in your gig bag or backpack.
Versatile: Adjustable legs can be set for uneven surfaces and different base circumferences.
Compatible:Standard 5/8-27" mic thread.
Secure: Extendable legs and steel tubing provide the strength to keep mics, phones, and tablets secure and stable.
Warranty: Best-in-class 2-year warranty with product registration.
Weight: 2.6 lbs (1.25kg), Dimensions: 18x2.5x2.5 in (457x64x64mm) collapsed
*NOTE: Boom extension and accessory clamps sold separately.