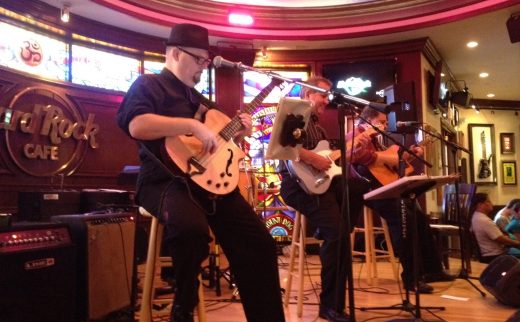 Steve Hoover: Multi-Musician & His Digital Sheet Music Setup
When I was a youngster, I dabbled with a bunch of different instruments. I tried my hand at playing a little guitar, fooled around with the harmonica, took some lessons on the french horn and even studied the violin semi-seriously for a few years. Frankly, I stuck with the piano because it was the easiest instrument to make a decent sound out of, and I was super lazy about practicing. So when a one-trick pony like me hears about a multifaceted musician like Steve Hoover, my envy streak makes Kermit the Frog look like an albino gecko! Here's a guy who can do EVERYTHING -- he plays the keyboards, bass, trombone, tuba, and he even sings for crying out loud! And that's just the performing side of his talents!
Here's a look at Steve Hoover and his 4-C setup for being a digital sheet music musician.
1. What do you do as a musician?
I have a degree in Music Ed. From SIU-Edwardsville and I taught music in MO public schools (University City & Ritenour) for 17 years prior to becoming a full-time musician 14 years ago. I am the keyboardist / bassist / MD for the Bob Kuban Band in St. Louis - bobkuban.com - I play keys/bass in a PW band at First Christian Church in my hometown of Edwardsville, IL - and I have my all-Beatles-all-the-time project - The Abbey Road Warriors - abbeyroadwarriors.com - I play bass, keyboard, trombone and sing in that group. I play occasional brass quintet gigs on trombone or tuba. I also write and arrange music for other artist/bands - I'm an avid user of Sibelius - and I have access to a project recording studio.
2. Why did you switch from paper to digital sheet music?
The convenience factor is huge! And being able to turn pages hands-free with AirTurn DUO makes performance so much easier and less stressful. Sometimes it's tough to get a hand free to physically turn a paper page - AirTurn eliminates that hassle. I keep all the music for my performing groups on my iPad as well as a large library of fake books to cover requests that come up. I also don't need a music stand light when using the iPad since it provides it's own illumination. I've been using DeepDish GigBook and I'm very happy with it - it does everything I need and in an elegant and logical way.
3. What are your "4-C's"?
a. Computer (for reading music)?
iPad 2
b. Content (what kind of music do you read and where do you get it from)?
I create my own PDFs from charts I do in Sibelius (a very popular music notation program for Mac and PC computers) – I also scan music to PDF. I sometimes purchase music from Musicnotes.com as well.
c. Container (do you use any special holders for your computer)?
I use the AirTurn PADLOK - it's been awesome. I can place the iPad at the optimum spot and it stays put.
d. Do you use any contollers?
I use the AirTurn DUO (a Bluetooth page turning pedal for the iPad) - wow, is this thing well built! I have used it 3-4 times a week since I got it - on everything from hardwood, to carpet, to concrete, and it still looks fantastic! And I step on it repeatedly! It has never let me down and has always worked the way it should.
Steve Hoover and the Abbey Road Warriors Band
---