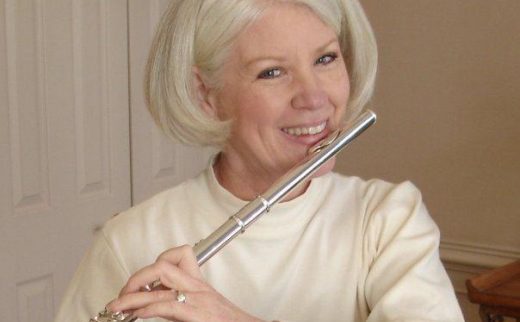 Sharyn Byer: The Legacy of a Forward-Looking Flutist
Sharyn Byer was a professional musician, teacher and mentor whose love of music inspired her students to pursue their own life-long journey of musical excellence. She was truly a music pioneer as one of the original instructors at the Institute of Fine Arts at Columbia, and one of the first musicians to digitize their sheet music.
In honor of her contribution and leadership, the Columbia Institute of Fine Arts was renamed the Sharyn Byer Institute of Fine Arts (SB ARTS) after her passing in 2021. Additionally, as a tribute to her legacy, the Flute Society of Washington established a scholarship fund in Sharyn's name, and presented her with their first Lifetime Achievement Award.
As an early adopter of AirTurn products, Sharyn understood the benefits of going digital very well. We had the fortunate opportunity to interview her about the benefits of digital sheet music and hands-free control with AirTurn products. 
Here's a look at Sharyn's 4-C setup for digital sheet music...
What do you do as a musician?
I graduated from the University of Miami School of Music and am Principle Flute of The Capital City Symphony in Washington, DC. I teach at Columbia Institute of Fine Arts and direct The Columbia Flute Choir. I tour with the International Flute Orchestra, and have performed in Europe, Russia, China and South America. I also play in First Light Ensemble and have performed locally in the DC area including at The White House.
Why did you switch from paper to digital sheet music?
I love having all my music available on one device, my iPad, and being able to easily take it all with me when I travel. Page turns are no problem with the AirTurn DUO! I can keep both hands on my flute at all times!! Dark stages are not a problem, either. I don't even need a stand light because the scores are back-lit on the iPad! Also, I don't feel like I'm hiding behind a big music stand because the iPad is so small. I can even position the music as close to me as I want and still see the conductor or the audience!
What are your "4-C's" ?
1. Computer (for reading music)?
iPad 2
2. Content (what kind of music do you read and where do you get it from)?
I scan music into my computer and transfer to the forScore app on my iPad through iTunes. I can also open emailed PDFs with the forScore app. Once in forScore, I can store music by title, composer, genre, or keyword. I can even annotate the music and create setlists for different ensembles or performances.
3. Container (do you use any special holders for your computer)?
The AirTurn Manos & iPad vs. Music Stand
I have two holders that I like. The AirTurn Manos is very secure and sturdy. When I play C flute in First Light Ensemble, I am seated and use the iPad holder on an AirTurn goSTAND. Because it's adjustable for both sitting and standing, when I play in a symphony orchestra, I use the goSTAND because I need the iPad a little higher so I can also see the conductor. When I play the Contrabass flute, I need to stand to play and the goSTAND works great! I can fit a regular mic stand in my old folding music stand cloth cases and it goes easily in my gig bag. If I am playing locally, I can also just use a mic stand but that won't fit in a carry-on bag for flying!
4. Controller(s) (do you use any special controllers for reading or working with your digital sheet music)?
I use the AirTurn DUO for hands free page turning (I need to keep both hands on my flute!) It works great on any floor surface and I am amazed how long the charge lasts! It is so easy to recharge with the iPad charger, even overseas!
---