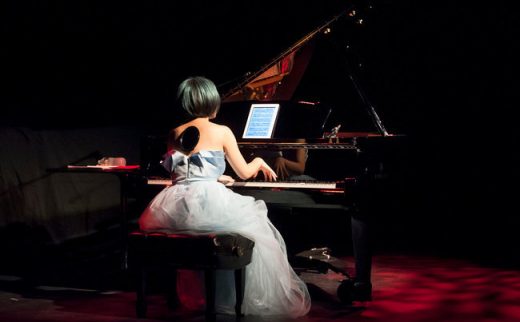 Jenny Chai, Contemporary Pianist
Jenny Q Chai is an active pianist specializing in contemporary music. She has premiered numerous works by such composers as Nils Vigeland, John Slover, Ashley Fu-Tsun Wang, Frederick Rzewski, among others. Ms. Chai introduced the concept of the prepared piano to Chinese audiences with the world premier of z"Mallet Dance" by John Slover at the Shanghai Concert Hall. Her performance of Chen Yi's "Duo Ye was" also well received by the composer, who remarked that "...she has spoken out in my voice, she played the music in my style, and she really presented the colorful musical images with clear layers and focused sound."
I love AirTurn pedals! It is the best invention for a contemporary pianist like me, who needs to deal with hundreds of pages of music! It lets me turn pages effortlessly faster than the blink of an eye, and from now on, no more carrying heavy music around!
Ms. Chai has performed in major concert halls in the U.S. including Carnegie Hall with the Curtis Symphony Orchestra under Andrea Previn, Steinway Hall and Rockefeller Center in New York, The Kimmel Center in Philadelphia, The Kennedy Center in Washington D.C., and The Kravis Center in Florida. She has also toured in China, Korea and Europe extensively, and participated in leading festivals and venues throughout the world.
Ms. Chai has earned her Bachelor's degree at The Curtis Institute of Music under Seymour Lipkin, and her Master's degree at The Manhattan School of Music under Solomon Mikowsky, where she is currently a D.M.A. candidate studying with Anthony de Mare.
---