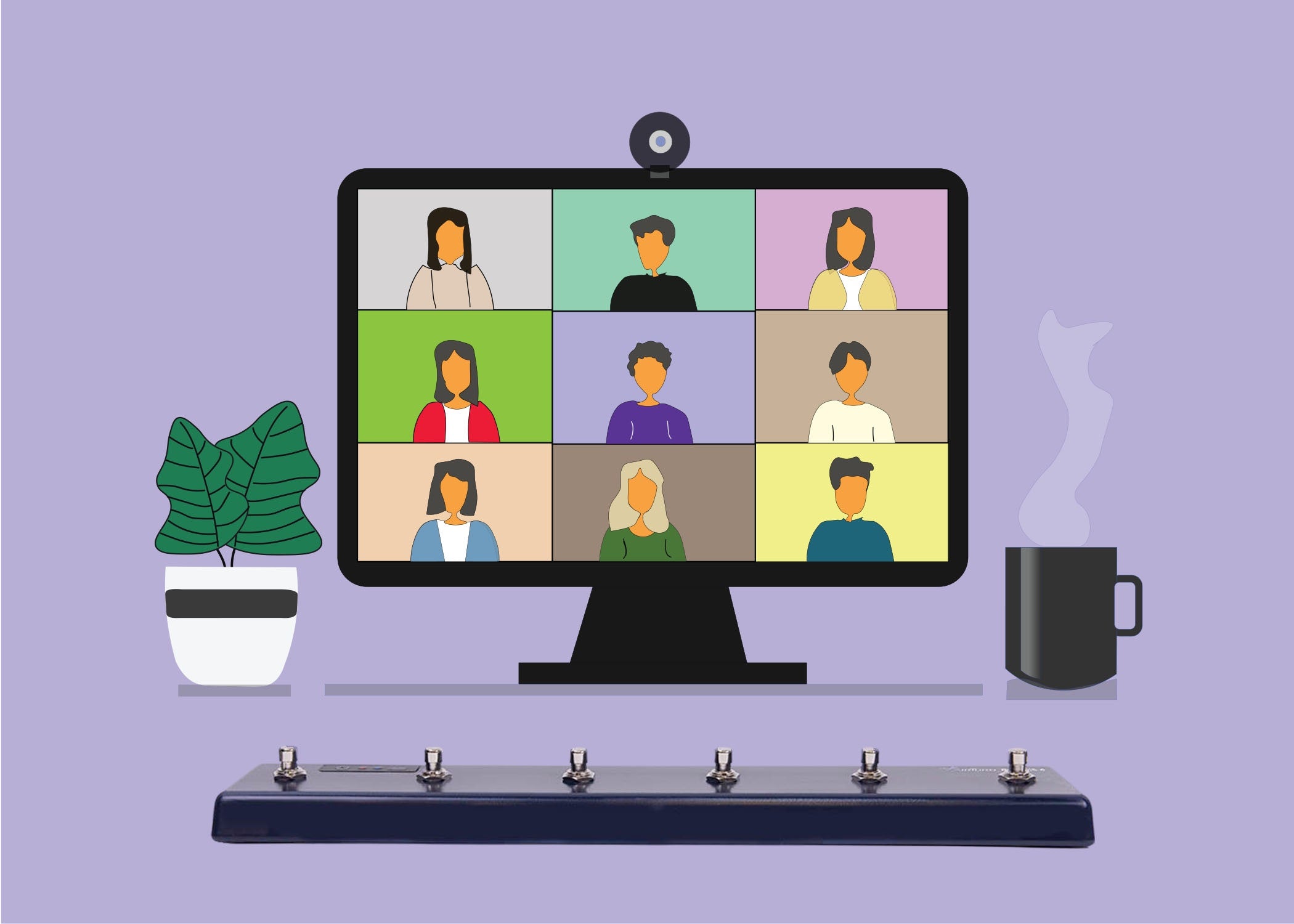 Video Conferencing Made Easy
Whether you're using Zoom, Microsoft Teams, Google Meet, or other video conferencing platform, AirTurn is here to make your life easier! These platforms have numerous keyboard shortcuts, any of which can be easily programmed using the free AirTurn Manager app, and then controlled with AirTurn Bluetooth Pedals!
Keep your hands free for your work and become more efficient with virtual communication today!
Lately, many companies, schools, and various groups are switching to video calling to continue operations. Luckily, there are plenty of services available to make that happen quickly and efficiently: Zoom, GoToMeeting, Google Meet, Microsoft Teams, and Webex, for example, allow you to speak face to face with one or more people simultaneously.
For smaller meetings, you might have enough screen space to fit everyone, but what happens in larger meetings of 20, 30, or even more people over multiple pages? What do you do when you have multiple cameras at different angles that you'd like to cycle between? The answer is keyboard shortcuts. Zoom, for example, allows you to cycle pages of attendees' video feeds with Page Up and Page Down, and switch camera angles with Alt+N.
Keyboard shortcuts, however nice, are sometimes impractical or even impossible if you're not near a keyboard or need your hands free. With an AirTurn footswitch or remote, you can take just the shortcuts you need with you, or even put them at your feet - all without any wires.
AirTurn devices come programmed with defaults that can be used right away - Mode 3 has Page Up and Page Down, for example. However, using the AirTurn Manager app (Available free for Android, iOS and MacOS), you can customize the actions performed by each button or pedal on a compatible AirTurn device to fit your needs exactly. Send keyboard keys, mouse clicks,and even combinations of each, with a single button press.
If you're using more than one conferencing service regularly, it might be difficult to remember all the different shortcuts. Fortunately, AirTurn devices feature five user-customizable modes. This allows you to program each button or pedal with multiple commands, and switch between them on-the-fly.
For small or casual meetings, you might just need one command, such as Mute/Unmute. For larger ones, you might need to scroll through users, switch cameras, and toggle videos. Large or small, AirTurn has you covered with a wide range of handheld remotes and foot pedals, with up to six programmable switches at your disposal.
To shop AirTurn Bluetooth Pedals, click here.
For more information regarding programming with the AirTurn Manager, click here.
Useful keyboard shortcuts for popular services:
Zoom
Page Up/Down: Next/Previous 25 video feeds in Gallery view
Alt+F1: Switch to active speaker
Alt+F2: Switch to Gallery view
Alt+V: Toggle your camera on/off
Alt+A: Mute/unmute your microphone
Alt+N : Switch cameras
Google Meet
Ctrl+E: Toggle your camera on/off
Ctrl+D: Mute/unmute your microphone
Microsoft Teams
Ctrl+Shift+M : Mute/unmute your microphone
Ctrl+Shift+O :Toggle your camera on/off
For more keyboard shortcuts, visit the support page for your service:
---