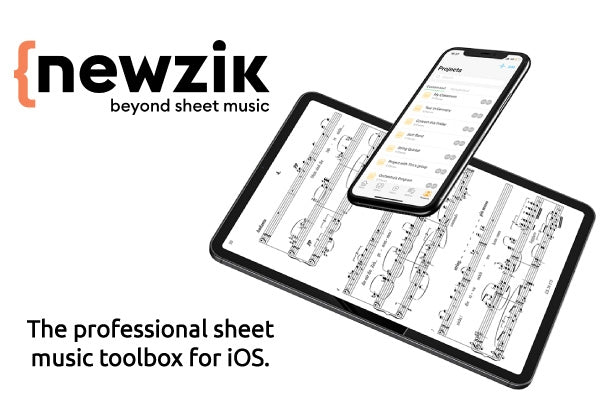 Newzik - More than a Music Reading App
Since 2014, Newzik's mission has been to make life easier for musicians by allowing them to rehearse and perform on stage together in better conditions. How do they do this? By transforming their paper scores into digital, interactive and collaborative sheet music. No more heavy binders, no more stress of turning pages, and no more photocopying. Newzik is a bit like Google Docs for sheet music: a software ecosystem that allows musicians to keep all of their scores in a digital library accessible at any time, to work on them with dedicated tools, and to share them in real-time with other users.
MusicXML provides an Important Breakthrough
While Newzik supports the traditional industry standards of PDF and TXT files, it was one of the early adopters to combine these with MusicXML, a rapidly growing standard in displaying notation. This is an essential solution to the changes within the publishing industry, and many of the larger publishers are now converting to this format. Having software that supports all three common formats is becoming more critical to the digital based musician. And with Newzik you can get your music from many publishers directly from within the app.
According the to MusicXML website, MusicXML is a digital sheet music interchange and distribution format. The goal is to create a universal format for common Western music notation, similar to the role that the MP3 format serves for recorded music. The musical information is designed to be usable by notation programs, sequencers and other performance programs, music education programs, and music databases.
All the Essentials Tools
Newzik offers an easy-to-use toolbox dedicated to performing musicians. Create your favorite pens and highlighters to annotate your music, crop your parts, reorganize them, navigate easily with bookmarks and jumps, practice with a metronome, and so much more! Whether you're new to reading music or a world-renowned soloist, Newzik has all the tools you need to prepare for your next concert at home and perform on stage.
Newzik lets you store thousands of parts within your digital library, organize them into setlists, create pieces with multiple parts to store different versions or instruments of the same work, and share your music and annotations in real-time with other musicians using Projects. Using the Newzik Cloud, your music is safe and always accessible.
Not Just Sheet Music
Newzik is redefining sheet music – Now, you can enrich your parts with audio recordings, MIDI tracks, or even YouTube videos. With a full-featured media manager, you can speed up, slow down, or even transpose any audio or MIDI file to help you practice. Plus, you can synchronize all these media files with your music.
Hands-Free Control for Exceptional Practice and Performance.
Newzik is fully compatible with AirTurn Bluetooth Pedals. Keep your hands on your instrument, and use a pedal to turn pages, navigate setlists, cue audio files, trigger the metronome, and more. Bring ease and excitement to your practice and performance with this perfect pairing!
Newzik supports AirTurn's AirDirect protocol which provides multiple advantages. Connect to Bluetooth directly through the app for a smoother experience, and never worry about your virtual keyboard showing up when you need it. (Important: to use the AirDirect Mode with your AirTurn product, you must be in MODE 1 before you connect to the iPad.)
Get Started for Free!
Now through January 31, 2021 you can get two months of Newzik subscription for free! Go here to sign up and enter the promo code AirTurn2020. Learn more about Newzik here. Questions, email: contact@newzik.com
---