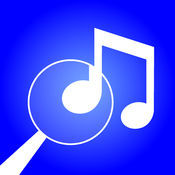 Music Zoom and developer Ed Dalton
Music Zoom is an innovative iPad app that enables users to clip pictures of music pages then provides an extremely zoomed view of the music one staff at a time. The AirTurn DUO is used to advance along the combined staff lines a few measures at a time hands-free. This is an ideal solution for musicians with low vision conditions.
For more information on Music Zoom visit http://musiczoomapp.com/
Ed Dalton, Developer of Music Zoom
Ed Dalton's life as a musician began at age 10 when his uncle gave him his first snare drum. His family has never recovered! He started playing guitar and piano in high school and is currently trying to learn how to play cello. Ed has always been interested in computers and studied basic computer programming in high school. He works in IT in the health insurance industry, but programming for iOS devices is the first time he's created an application from the ground up. Being visually impaired since birth, Ed is constantly finding different ways to accomplish things most normally sighted people take for granted. Prior to picking up the cello, he was able to either move his music close enough to where he could read it, or he would play from memory. However, while studying the cello, he quickly realized that, to bow properly, the music needed to be too far away to see. He quickly fell behind in his class and realized he needed a better way to read sheet music. This was the catalyst for Music Zoom. Ed's other app, Find That Note, is an iPhone app designed to help musicians learn relative pitch. In his free time, Ed enjoys cooking and running incredibly long distances with his wife in Illinois.
---