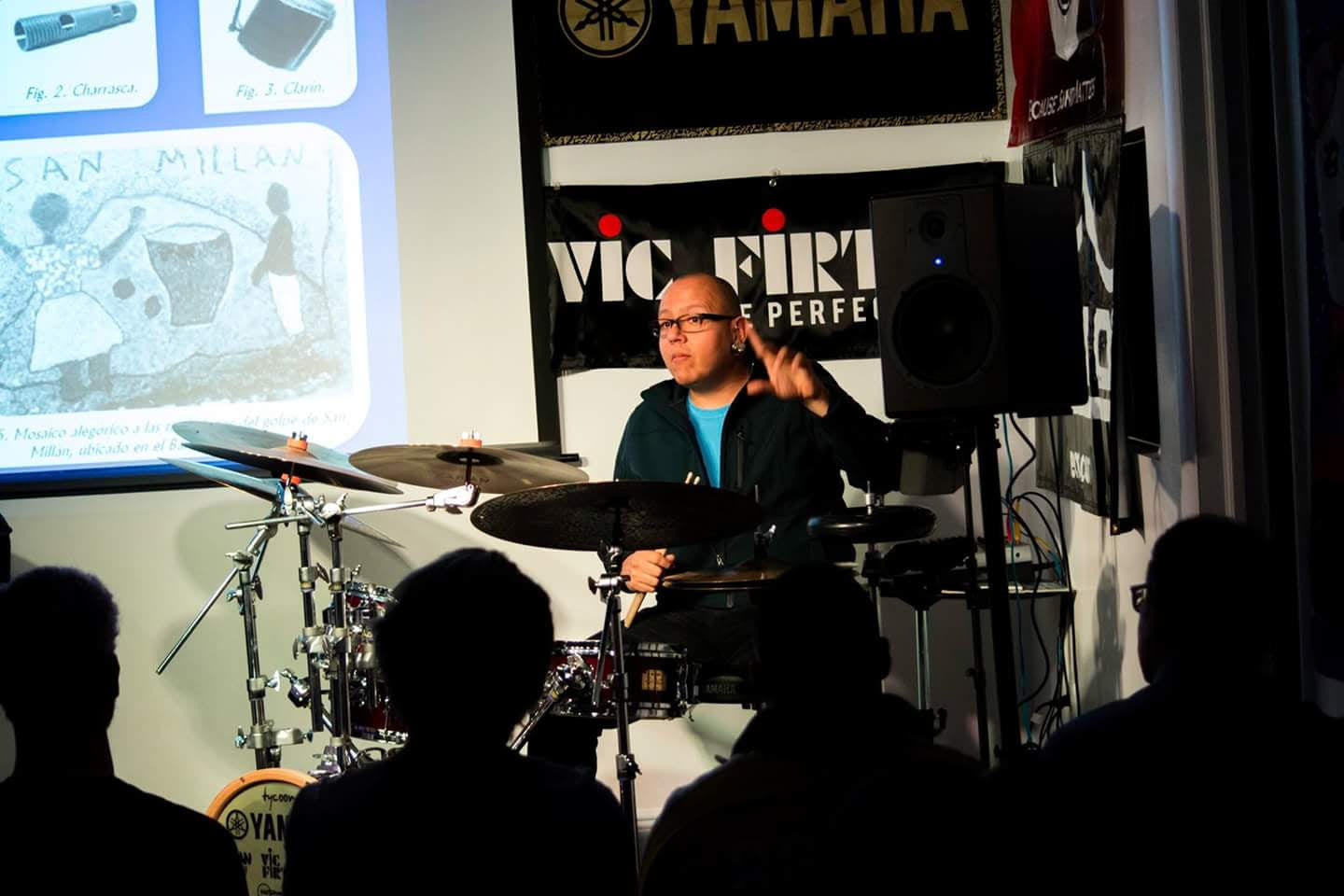 Miguel Hernandez and His Master Class
Miguel Hernandez recently taught a master class for www.kalosmusicandart.com in Aventura, Florida. He is a big fan of AirTurn's Tap, Manos Universal Tablet Holder and goSTAND and has started to incorporate these solutions into his master classes. You can find out more about his classes HERE 
Born in San Cristóbal, Venezuela, Miguel Hernandez has been categorized as one of the best Venezuelann drummers. He has paved his own way, winning over some of the most exponential jazz, pop, latin rock and fusion music in which such artist as Víctor Cuica, Gonzalo Micó, Virginia Ramírez, Rodolfo Reyes, Rafael "El Pollo" Brito, Carlos E. Arellano, Feeling, Agua de Luna, Carlos "Nené" Quintero, Eddy Marcano, Miguel Delgado Esteves, Kitimba Jazz, José Angel, Aldemaro Romero, María Alejandra Rodríguez, Goyo Reyna, el Latin Jazz Band de Andy Durán, Emmy Herrera, Marisela Leal, Toña Granados, Maruja Muci, Euler, Cores Do Brasil, Ensamble A Contratiempo, Gladis Salazar, Biella Da Costa, Jeremy Ledbetter, Pablo Gil, Yordano, Robert Quintero y Otmaro Ruíz stand out.
 

Currently, he is an exclusive artist of YAMAHA drums, SABIAN cymbals, VIC FIRTH drumsticks, REMO drumheads, HISHAKER, WILLY MAYO instruments and soft cases, GROOVE Insumos, ZUKRAN Musik, CYMPAD, GATOR Cases, KICKPORT, TYCOON Percussion, AIRTURN and ADVANCED Ears. In 2012, he graduated and got his Bachelors in Biblical Art Musicals with a focus on Instrumental Execution on Drums. In 2013, he launched his first discographic production from MIGUEL HERNÁNDEZ PROJECT, titled "Afrovenezuelan Jazz Standards".
 

He is the first Venezuelan drummer to edit a didactic book called "AFROVENEZUELAN RHYTHMS FOR THE DRUMS" alongside the talented pianist and producer Hildemaro Álvarez, that shows how to play the different afro-venezuelan rhythms on the drums, dictating Master classes in and out of Venezuela in such countries as Spain, London, Austria, Dominican Republic, Columbia, Chec Republic, USA, Canada, Brazil, Trinidad and Tobago, Mexico, Puerto Rico, Honduras, Ecuador and Argentina.
---