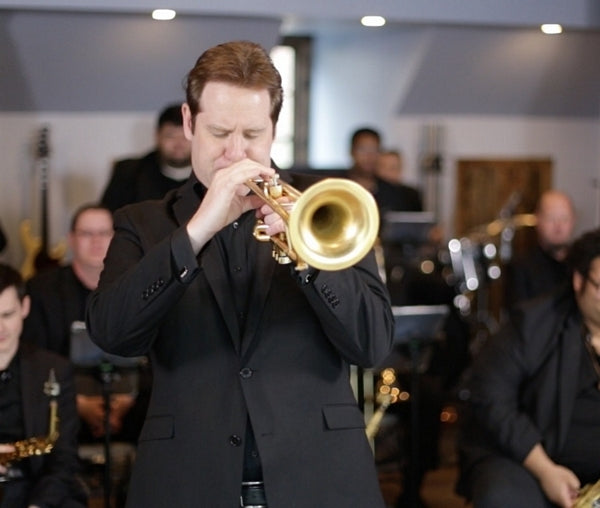 Joe Gransden's Big Band Goes Digital
Joe Gransden and his talented 16 piece Big Band have been playing together in Atlanta and all around the country for more than 12 years. The band is referred to as one of the busiest groups on the jazz scene because of their consistent, weekly performances and appearances. Before Joe started his band, he played trumpet in the iconic Tommy Dorsey Orchestra and Glenn Miller Orchestra.
Once Joe Gransden's Big Band began to book gigs around the country and started traveling with all of their cumbersome paper charts and equipment Joe quickly realized the need for a better music reading solution. As soon as Joe heard about using digital music charts and AirTurn products he took the plunge and got Apple iPad Pros, goSTANDs, MANOS universal tablet holders, and DUO footswitches for everyone in his band. Joe explained to us that "going digital and going with the AirTurn foot pedals and AirTurn stands has completely enhanced our performance."
The AirTurn DUO foot switch has greatly impacted the way Joe and his band interact with their music. Joe stated, "We start playing these charts and the musicians don't have to reach out with their hand to turn pages, they just click that perfect little pedal that is just so fantastic." Joe also said that he never has to worry when he forgets to recharge the DUO's after a show because the battery can last 5 gigs in a row on a single charge. The band was in full support of the implementation of AirTurn solutions and spoke very highly of them. Terence Harper, trumpet player in Joe's Big Band, shared his thoughts on the DUO, "It's just a lot easier to just tap your foot and turn a page as opposed to having to maneuver my horns, my mutes and turn the page." Tom Gibson, a trombone player in the band, admits that he was prone to missing page turns before having an AirTurn pedal and now has the freedom to keep his hand on his instrument.
Getting AirTurn goSTANDS and MANOS for his band improved not only the stability of their iPads but also their presentation and appearance to the crowd. Wes Funderburk, lead trombone and arranger, recalls experiences trying to turn a page on a normal stand and accidentally knocking the music off the stand or even knocking the stand over itself. Now, he states, "it's not even a consideration." Joe has encountered his band walking into and hitting these new goSTANDS and because of their sturdy base they stay upright when other stands would have fallen. John Sandfort, tenor saxophone, mentioned this about the goSTAND and MANOS, "The stands are awesome. They hold the iPad completely solid. The stands themselves break down into a very small footprint, but then visually from the crowd looking at the band, it's a very modern, very sleek presentation." The band loved seeing photos after their first show with the goSTAND and MANOS and realizing how fresh they look with stands that take up very little space on stage.
By switching to digital sheet music and using AirTurn products Joe Gransden and his Big Band can now easily access and navigate all their 300+ charts anywhere quickly and efficiently. AirTurn has given them a modern look with the sleek goSTAND and MANOS and the freedom to keep their hands on their instruments and turn pages with their feet. Joe told us, "No doubt it's changed our life. I would recommend it to anybody, not just big bands, anybody out there should go this digital route for sure." Watch Joe and his band using the product here.
Read more about Joe Gransden and find where he's playing next at joegransden.com
Besides playing weekly gigs with his band, Joe also leads a jazz camp for young musicians. The mission at Joe's Jazz Camp is "to educate and enhance our youth through America's premier art form." Learn more at joesjazzcamp.com
---