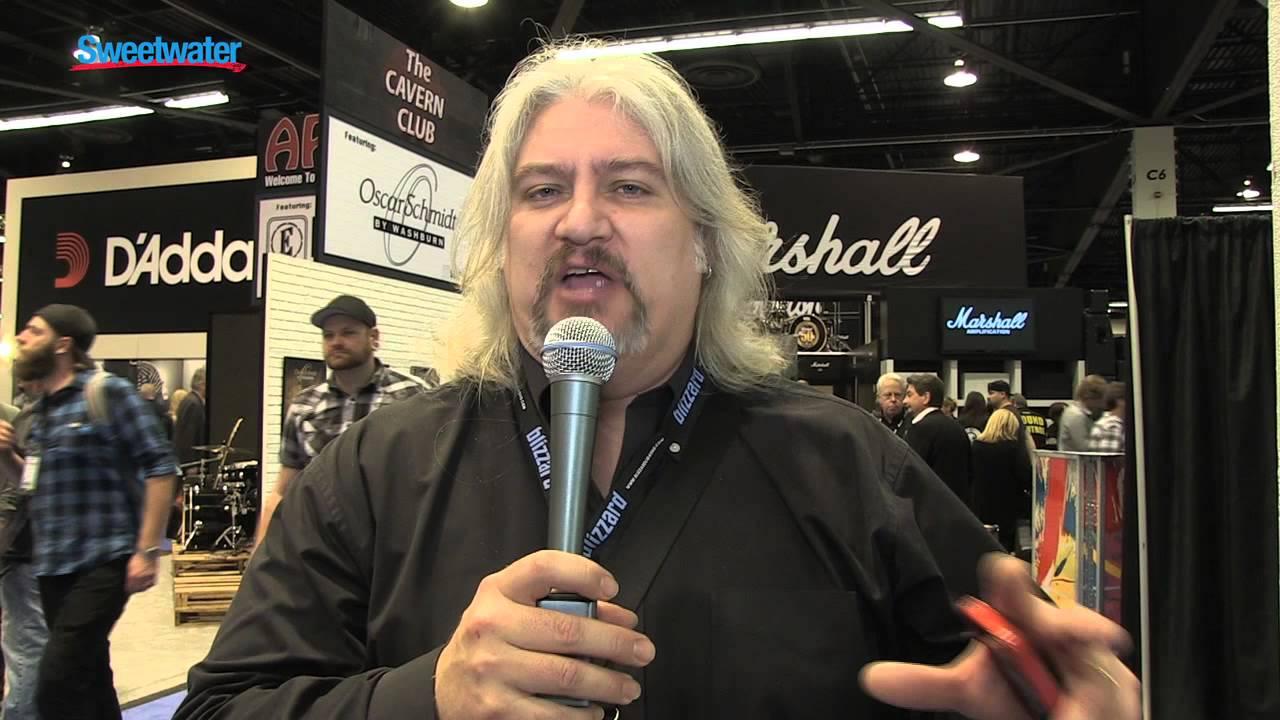 Interview with Mitch Gallagher from Sweetwater - AirTurn TV #12
About Mitch Gallagher
Sweetwater Editorial Director Mitch Gallagher was introduced to recording when the manager of the rock band he was in loaned him a 4-track cassette recorder. He studied electrical engineering and computer science at North Dakota State University, eventually earning a Bachelor of Arts degree in music from Moorhead State University (now Minnesota State University - Moorhead). His graduate studies at the University of Missouri in Kansas City included music composition and classical guitar.
---
He toured as a lead guitarist/vocalist in rock and country bands, and has played with big bands, fusion and experimental music groups, and as a classical and steel-string guitar soloist. As a classical guitarist, he studied with Michael Coates, Douglas Niedt, Jason Vieaux, and Denis Azabagic. He has performed in master classes with William Kanengiser of the Los Angeles Guitar Quartet and Lorenzo Micheli of Italy's SoloDuo.
As a music technology specialist, he has taught college courses, lectured, given clinics, consulted with pro audio manufacturers, and spoken at festivals, conventions, and conferences around the world. Publications such as the Washington Post consult him as a technology expert. He is a respected recording, live sound, and mastering engineer, and operates his own recording studio and production company, MagMedia Productions.
As a composer, he studied with Henry Gwiazda, Gerald Kemner, and James Mobberley. His compositions cover genres from classical to experimental to heavy metal. "Prophecy #1: At First Glance," an experimental percussion ensemble/synthesizer work based on the Fibonacci number series, received a 1991 NARAS (Grammy) award in the Best New Music/New Classical category. He was a featured artist at the 1994 International Computer Arts Festival in Sofia, Bulgaria, where he lectured on his Prophecy series of electronic music compositions.
The former senior technical editor of Keyboard magazine and former editor-in-chief of EQ magazine, Gallagher has published well over 1,500 articles in magazines such as Performing Songwriter, Acoustic Guitar, EQ, EQ en Espanol, Keyboard, Pro Sound News, Guitar Player, Government Video, Extreme Groove, Music Technology Buyer's Guide, Videography, Strings, M, and Microphones & Monitors. He is also the former editor of Church Sound magazine, and served as associate editor at Live Sound magazine.
His books include Make Music Now! (2001, Backbeat Books), Pro Tools Clinic (2005, Music Sales/Schirmer Trade Books), The Studio Business Book, 3rd Edition (2006, Course Technology/Cengage), Acoustic Design For The Home Studio (2006, Course Technology/Cengage), Mastering Music at Home (2007, Course Technology/Cengage), and The Music Tech Dictionary (2008, Course Technology/Cengage). Project Studio Mastering (2008, Multi-Platinum Pro Tools) is his first instructional DVD. His latest book is Guitar Tone: Pursuing the Ultimate Guitar Sound (2011, Course Technology/Cengage).
He is featured in hundreds of YouTube and Facebook videos, and currently hosts three weekly video shows: The Sweetwater Minute, Guitars & Gear, and The iOS Update.
Gallagher is the author of "Guitar Tracks," a monthly column in Premier Guitar magazine, and regularly contributes as a freelance author to many music publications. He operates MAG Media Productions and the Sound Sauna Studio, teaches audio recording and music business as associate faculty for Purdue University/Indiana University, and performs with The Mitch Gallagher Band. He is the Editorial Director for Sweetwater Sound. He and his wife Felicia reside in Fort Wayne, Indiana, with their Yorkie, Oliver.
Visit www.mitchgallagher.com to learn more.
About Sweetwater
Back in 1979, Chuck Surack had a 4-track recording studio in the back of his VW bus. He'd record bands in local clubs, then take the tapes back to his home to mix and master them. Like every musician and studio owner, Chuck was always looking for new and better gear.
That's where the problem reared its ugly head...there wasn't a music/pro audio dealer around that provided the kind of service, support, selection, and pricing that would make Chuck a satisfied customer. At the same time, Chuck had begun creating sounds for the ground-breaking Kurzweil K250 keyboard, and selling those sounds to many of the biggest names in the industry. Those sound-design clients were also seeking a retailer they could trust. Chuck saw a niche, and Sweetwater's retail division was born.
---