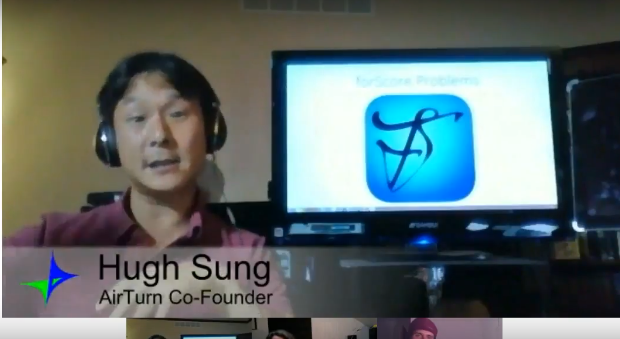 Interview with Ian Stephenson, Developer of My Lyric Book - Episode 2
Hosts: Hugh Sung and Michael Bode Scheduled Air Date: Saturday, October 12, 8 pm EST/7 pm CST/6 pm MST/5 pm PST Special Guest: Ian Stephenson, Developer of My Lyric Book for iOS Featured App: My Lyric Book
Tips and Tricks: How to fix forScore with iOS 7
Join co-hosts Hugh Sung, VP and co-founder of AirTurn, and Michael Bode, AirTurn's Customer Service Specialist, for our next AirTurn TV broadcast via Google+! This episode will stream live on this page, and will be available for viewing afterwards as an archived video recording.
Show Notes
The live video player should appear on this page by Saturday, Oct. 12, 8 pm EST. If for some reason you don't see the player, try refreshing or restarting your web browser, or clear the cookies from your browser's cache and then refreshing this page. Once you see the player, press the "play" button at any time to see the live feed. The show will be automatically recorded and archived for future viewing anytime.
Click here for a chance to win a free copy of "From Paper to Pixels: Your Guide to the Digital Sheet Music Revolution" by "liking" our Facebook page (www.Facebook.com/AirTurn)
Take our 3 question survey
Create your free online surveys with SurveyMonkey , the world's leading questionnaire tool.
---