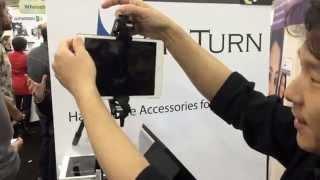 AirTurn Reviews the Overhead Travel Guitar by Journey Instruments from SXSW 2014
AirTurn TV host Hugh Sung interviews James Brawner from Journey Instruments, creator of the Overhead Travel Guitar. The Overhead features a unique collapsible design that ensures a rich sounding acoustic guitar can fit in the overhead compartment of an airplane.
The Overhead comes with a terrific travel bag that has enough pockets to fit all the gear a gigging musician needs, including enough pocket room for an AirTurn BT-105 wireless pedal for turning pages or controlling iOS effects hands-free.
For more information on the Overhead line of travel guitars, visit http://journeyinstruments.com
---