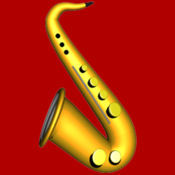 Tenor Sax Prompter
The easiest, most fun way to learn to play the tenor sax! It's like a teleprompter for the saxophone: play the note fingerings shown on the screen to play along with the included scales--or import a song MIDI file from your email or from a web site and see note fingerings for the tenor sax in real time as the song plays!
Slow down any song to make it easier to play along with, and adjust the playback speed at any time! No more trying to balance fingering charts and sheet music on your music stand! No more having to cross-reference from sheet music to try to find the right note to play! The Tenor Sax Prompter ends this frustration, gets you making music IMMEDIATELY, and keeps you motivated to PLAY MUSIC!
Tenor Sax Prompter also now supports the two-pedal AirTurn wireless page turner! Now your practices can be MORE PRODUCTIVE and MORE FUN when you control Tenor Sax Prompter with your feet! Start, stop, or pause playback! Scroll backwards or forwards through note fingerings for the notes in your songs in order! Step through the reference fingering charts — by literally stepping on the AirTurn's pedal! Now you can practice without taking your hands off your instrument — so practice is more efficient, more productive, and MORE FUN!
Stay focused on LEARNING and PRACTICING — without having to interrupt your progress by having to touch your iPad, iPhone, or iPod Touch's screen as much! Check out the AirTurn Bluetooth wireless page turner — available at Amazon, Musician's Friend, and anywhere music gear is sold--and unlock the best experience possible with Tenor Sax Prompter!
---