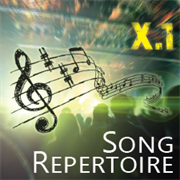 SongRepertoire
Digital management of your music sheets, playbacks and set lists.
Use SongRepertoire to manage your music sheets
PDF
ChordPro and text
Images (import or directly take pictures)
Templates for music scores and guitar tabs
GuitarPro files (opened external)
Web links
Write annotations to PDF, ChordPro, text, images and our templates
Use SongRepertoire to add playbacks
add one or more playbacks or audio files to a song
record your own audio directly from the song page
include audio markers with loops
Use SongRepertoire to manage your set lists
unlimited set lists
group your songs to blocks including calculation of length
favorites playlist
Connect SongRepertoire to other devices
use external pedals to control SongRepertoire (e.g. scroll down, next song, start playback, ...)
connect Midi devices and send commands from SongRepertoire
Link AirTurn Bluetooth Pedals with definable HotKeys
Add multiple music sheets, chord files, web links or GuitarPro files as well as playbacks to a song.
Use the integrated chord file editor or add external files (PDF, images, text, ChordPro, GuitarPro, web links).
Or use the camera of your device to take pictures of printed music sheets.
By using the ChordPro format of SongRepertoire you can transpose the songs easily.
Add web links to your songs and open them with the integrated browser.
Add GuitarPro files and open them external with the GuitarPro application (license not included!).

If your device supports a stylus you can use it to add annotations to files, to write tabs or music sheets based on the prepared empty templates.
Add playbacks to your song or create them by yourself with the audio recorder of your tablet.
To arrange your set lists you can manage multiple playlists, add, reorder or remove songs from them.
You can also export songs or playlists and import them on other SongRepertoire installations or share them with your band mates.
It´s also possible to export your music sheets to pdf, as well as recorded audio as mp3.
You can rotate or crop single pages of a pdf file or image files.
Licensing is based on a monthly or annual subscription model (about 1,50 US$/14 US$ depending on your country. You see the current pricing directly in the trial version of SongRepertoire!).
You can run SongRepertoire without subscription in trial mode. Here you get the full functionality, but you are limited to handle a maximum of five songs.
If you buy a subscription but cancel it later you can still use SongRepertoire with all functions and all your songs and playlists. But without an active subscription you are not able to add new songs.
Learn more at: https://songrepertoire.com/
Get your copy here: https://www.microsoft.com/en-us/p/songrepertoire
---