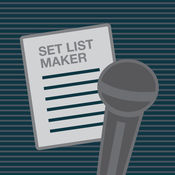 Set List Maker for iOS
Set List Maker is a powerful song management tool for musicians.
With the popular Set List Maker iOS app you can now build set lists, display lyrics and chords, play backing tracks and control your MIDI devices from either platform, and sync your data with bandmates on either the iOS or Android platform. For information regarding the iOS8 update and SetListMaker please check the developer website.
Tutorials
---