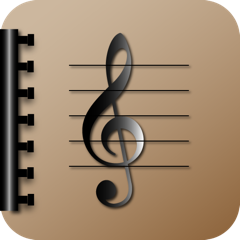 RealTunes
Put your Fake Books on your iPad or iPhone! With RealTunes you can put all your
sheet music on your mobile devices. Create your own virtual fake book!
Library Management
RealTunes includes a handful of public domain example files to get you started.
RealTunes also includes indexes (by title and composer) for the Real Book CD-ROM
series (PDFs not included).
The Real Book CD-ROM series is a set of 1200 meticulously scanned PDFs from the
Hal Leonard Real Book Series, making RealTunes the ideal companion for enjoying this
wonderful library.
PDF files from the CD-ROMs, as well as your own PDF music files, can be easily
downloaded via Dropbox onto your iOS devices where they can be viewed and printed.
Create your own TuneLists to organize your music any way you like.
Apple Music Integration
Match titles from your library to tracks in the Apple Music Catalog. Listen to complete
songs and albums while managing your Apple Music playlists, all from within
RealTunes.
AirTurn Support
RealTunes supports the full line of AirTurn pedals for hands-free page turning
---