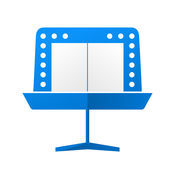 piaScore Sheet Music Reader
The "piaScore" is an iPad/iPhone application for browsing digital musical scores.The piaScore's concept is "VIEWING MUSICAL SCORE FROM EVERYWHERE - ANYWHERE, ANY TIME".
Here comes an application which solves EVERY SINGLE problem that music performers have ever encountered. No more trouble of carrying loads of scores and looking for your favorite one.
---